The creative advantage over your competition.
We are responsive 7 days a week and treat your business like it was ours. We care that much!
We support all industries and have extensive experience in these:
- Automotive and Accessories and Fluids
- Fitness and Outdoor accessories
- Window Shading
- Healthcare
- Restaurants, Bakeries & Food
- Political Campaigns
- Hand Protection & Safety Products
- TV & Broadcast
- Sports Teams, Leagues and Training Facilities
- Pens / Writing Instruments
- Lighters
- Carpeting/Tile/Wood Flooring
- Publishing Books, Magazines
- Commercial Real Estate
- Retirement & Rebab Facilities/Homes
- Life Counseling and Clinics
- Non Profits
- Photography & Fine Art Industry
- Home Construction/Building
- Handtools, Hardware & Power Tools
- Shaving and Blades
- Scented Candles & Scented Air Fresheners
- Lighting Products & Bulbs
- Insurance & Financial Institutions
- Human Resource Companies
- Banking
- Fashion, Retail, Workwear, Jewelry
- Sports Clothing & Equipment
- Phone & Communications
- Utilities/Power Companies
- Batteries/Cells
- Town Chamber Of Commerce Support
- TV Mounts & Accessories
- Outdoor Shelters and Canopies
- Water Bottles & Accessories
- Advertising Industry
If your industry is not listed, it just means that we haven't yet had the opportunity to bring fresh thinking and
new ideas to your projects yet. Give us the chance and you will see! Afterall, If a designer is good at what
they do, they can apply their skills to any industry!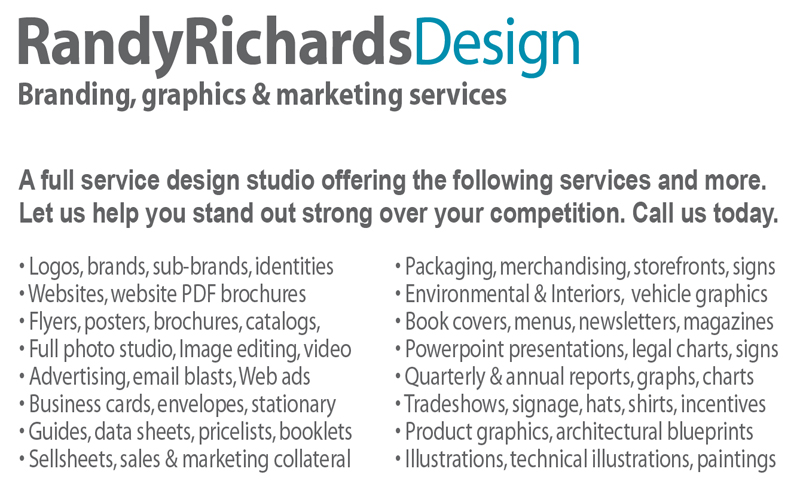 We create, build, rebrand and strengthen brands for companies.
Everything a company does effects its brand. Thats why we create brands but also help build and strengthen them through all creative platforms, and produce award winning creative while doing so. A brand should speak with one voice consistently across all materials.